The former Dutch international has touched down in Australia ahead of his first season with Central Coast Mariners.

You can meet Wout in a relaxed setting at our Mariner-Palooza on Friday August 25! 
Join us for the first ever Mariner-Palooza 🎯 We're celebrating a major announcement with games, food & beverages! 😎 https://t.co/nyOaqjDQ8L pic.twitter.com/54icfReamg

— #CCMFC (@CCMariners) August 9, 2017
"I'm thrilled to help the team come further in the competition than last year," said Brama upon arrival at Sydney Airport.
"I've been told it was a hard year last year so this year we are going to the finals.
"We're up for it," he declared.
"I am so happy to be here," Brama said. "To arrive in Australia and see these supporters makes me feel so welcomed. 

"I've heard the Central Coast is a nice place to live, right next to the beach. For me it's a great time to come here, a great adventure no the other side of the world. 
"I can't wait to meet my teammates.
"Yes, I met Banksy here at the airport, he told me that he's at training every Friday and he picks the first 11 so I have to watch out for him," Brama said.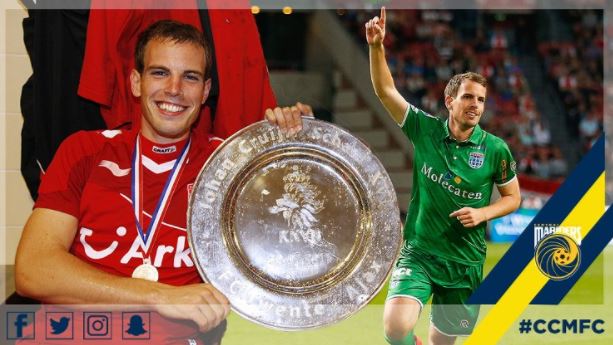 WOUT'S GOALS
The defensive midfielder played over 300 games in the Netherlands for the likes of FC Twente, PEC Zwolle and most recently FC Utrecht who finished fourth in the 2016/17 Eredivisie.
And he's approaching his time at the Mariners in straightforward fashion.
"Staying fit, helping the team and giving my best," he said.
"That's what I always did at my former clubs and I will do it here also."
Great to welcome Wout Brama to Australia this evening. A truely lovely individual, and such a professional. Will be a fave with the fans!

— Carly Carmichael (@CarlyCCMFC) August 10, 2017
THE DUTCH CONNECTION
Brama joins countryman Tom Hiariej on Central Coast's roster and has been tapping him for information ahead of his arrival.
Tom Hiariej is a gun.

— Josh Howe (@JoshO567) August 2, 2017
"I had a lot of contact with him and he spoke very positively about the club," said Brama.
"That helped me sign the contract here.
"He told me it's a great club and a family club with very nice people and a good squad with a good coach.
"I'm thrilled to start the season here on the 7th of October.
"I'm ready for it."
This article was originally published at: http://www.a-league.com.au/article/dutch-signing-vows-finals-football-at-ccm/tk01swqssp4n1u19ujtnm8c2p.